Hülya Friebe - intercultural singer/songwriter, composer, producer
Songs from the depth of the heart touch and connect Orient and Occident.
Hülya Friebe is an exceptional intercultural artist who belongs to a species that is almost extinct today. As a singer, producer and director, she confidently opposes the commerce of the retort and presents handmade music with real content. Her media for this are music videos, her film studio/sound studio and events like church congresses for international understanding - full of loving world music.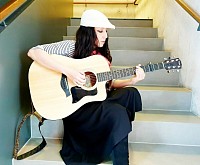 Music is food for the soul
songs are clothes for the soul woven from wishes and love 
God's is the Orient!
God's is the Occident!
North and south terrain
Rest in the peace of his hands.
Johann Wolfgang von Goethe
As a singer, composer and director, Hülya Friebe opposes the commerce from the retort and presents handmade music with real content full of peace and confidence. In addition, she constantly makes new songs, film music and lectures to reunite the hearts of two worlds and to give people courage and confidence.
Hülya Friebe, née Hülya Kandemir, "The only German singer-songwriter with international format. (FAZ)
Thanks to her background, her worldwide social culture projects, her study trips and her knowledge of faith and mysticism, Hülya is invited as a speaker and lecturer: for interreligious and intercultural dialogue, often in cooperation with the Protestant, Catholic Church and Muslim religious communities, to build bridges and find trust through song lyrics and melodies.
Hülya also gives interreligious lectures specifically for women, as in "Strong Women" - against oppression and humiliation - or in synagogues for peace.