Hülya Friebe - intercultural singer/songwriter, composer, producer
Songs from the depth of the heart touch and connect Orient and Occident.
Hülya Friebe is an exceptional intercultural artist who belongs to a species that is almost extinct today. As a singer, producer and director, she confidently opposes the commerce of the retort and presents handmade music with real content. Her media for this are music videos, her film studio/sound studio and events like church congresses for international understanding - full of loving world music.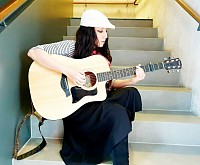 Music is food for the soul
Songs are clothes for the soul woven from wishes and love 
God's is the Orient!
God's is the Occident!
North and south terrain
Rest in the peace of his hands.
Johann Wolfgang von Goethe
As a singer, composer and director, Hülya Friebe makes handmade music with real content full of peace and confidence. In addition, she constantly makes new songs, film music and lectures to reunite the hearts of two worlds and to give people courage and confidence.
Hülya Friebe, née Hülya Kandemir, "The only German singer-songwriter with international format. (FAZ)
Thanks to her background, her worldwide social culture projects, her study trips and her knowledge of faith and mysticism, Hülya is invited as a speaker and lecturer: for interreligious and intercultural dialogue, often in cooperation with the Protestant, Catholic Church and Muslim religious communities, to build bridges and find trust through song lyrics and melodies.
Hülya also gives interreligious lectures specifically for women, as in "Strong Women" - against oppression and humiliation - or in synagogues for peace.
Bio: Hülya Friebe, I grew up with nine siblings. Back then my parents were the only "non-locals", the only foreigners in the small Bavarian village. I became interested in music early on, taught myself to play guitar when I was 10 and played in my early 20s with my idol Joan Baez in Munich. In the great splendor of the show business there were many masks and masquerades. I was looking for truths - for myself. So I started making music not only for entertainment but with real content. I would like to share this real content, feelings and thoughts with you through my new album "Find Peace" with songs like "Find Peace" and "Back to Us".
I never want to judge - no racism. My songs carry the message of love. The respectful coexistence of cultures and religions is a matter close to my heart. My sensitive music is about the timeless longing for love and peace, with my voice I want to share with my listeners the hope, confidence and courage of my soul.